Details
Liner Sets include six pieces in total, made with non-toxic waterproof material to provide maximum protection for each piece of Nugget foam: two for the thicker bases, two for the thinner cushions, and one for each of the two triangle pillows. Each liner piece is labeled clearly for easy assembly.
Care
Liner Sets are machine-washable! Zip each piece before throwing in the machine, and wash on the coldest setting available. Hang to dry.

For more care instructions see our Care FAQs.
Certifications & Safety
Nugget Liner Sets are also GREENGUARD Gold certified, which means they were rigorously screened and scientifically tested for more than 15,000 VOCs. Nugget Liner Sets passed the strictest requirements with flying colors, so they don't emit any harmful chemicals. You can rest easy and play all day, knowing our products are safe for children, families, and the environment.

No harmful flame retardant chemicals are applied to the foam or the fabric. Passes California's TB-117 fire safety regulation.
Jump, Play, and Rest Easy
With our Certified Nuggety Liner Sets, made from non-toxic waterproof material, your Nugget is protected from unwanted spills, accidents, and mishaps.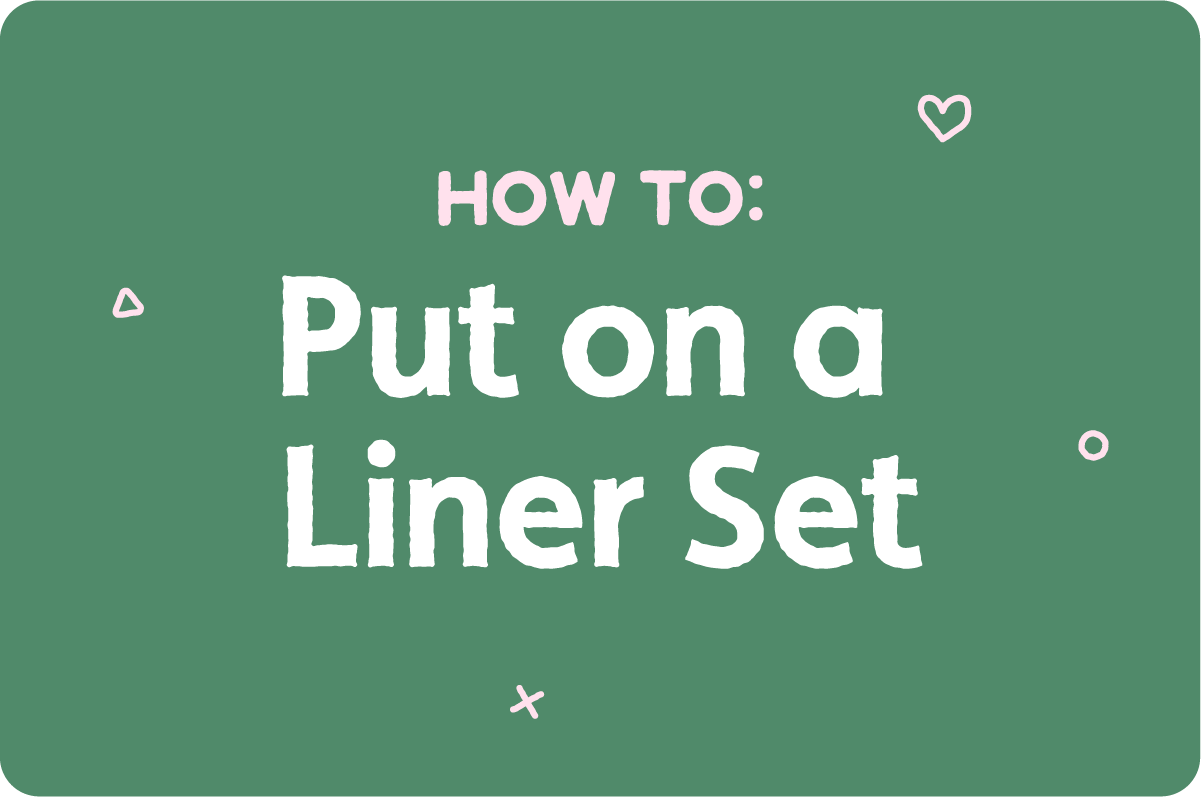 Turn an "Uh Oh" into "No Worries"
While we had a laundry list (get it?) of requirements during product development, first and foremost was protection from liquids of all sorts. Nugget Liner Sets are double-layered with a 100% PU (polyurethane) material for waterproofing and a 100% polyester grey top for durability and quality. Both materials are non-toxic.
So perfectly made for the Nugget...
We love color here at Nugget, and the last thing we want with our Liner Sets is to impact the visual experience or the way our carefully crafted colors show in different lighting. Our Liner Sets are made to blend right in without altering the color or texture of your Cover Set!
You won't even know they're there.
Our Liner Sets are tailored to the Nugget. Think of the biggest, best bear hug ever and you're on the right track! Liner Sets don't show through and wouldn't dream of impacting the play experience.
Easy assembly (really!)
Liner Sets come with six pieces: two for each piece of base foam, two for each piece of cushion foam, and one for each pillow. We know you've got a lot on your mind, so we made assembly easy-peasy with clear labels and a handy-dandy how-to video.
Total 5 star reviews: 303
Total 4 star reviews: 13
Total 3 star reviews: 6
Total 2 star reviews: 4
Total 1 star reviews: 7
95%
would recommend this product
Customer-uploaded media carousel. Press left and right arrows to navigate. Press space or enter to open more details.
Slide 1 selected
Passed the test

My grandson barfed on the Nugget.🤢 The liner kept the foam dry and odor free. Definitely worth springing for the extra cost.

Glad I bought

I have peace of mind knowing my nugget is protected from the inevitable spills and leaks. And they make changing the cover easier!

Necessary investment

So happy we decided to purchase the liner set with our nugget! With a 15 month old we knew that it would be inevitable that the nugget would get dirty and have spills etc. We have only had the nugget for a couple of months but the nugget has survived countless possible fatalities. Near death by pouch, milk, water, drool, and even a rogue diaperless baby.

The covers were easy to get on with the help of the video and you can't even tell that they are on underneath the nugget. We plan of repurchasing with future nuggets!

N

Nugget

September 18, 2023

We're thrilled to hear the Nugget is alive and well after so many near-misses, Jeanette! 😅 We hope your little Nuggeteer has many, many years of Nuggety fun building and playing!

Peace of mind

If something spills, the regular covers do a great job holding liquids at bay until you can clean up. Having the liners is a nice backup in case a spill happens when you can't clean up right away.

Not convinced

Unless you're playing with a coffee mug in your hands, or kids are having breakfast on their nugget, I'm not convinced the liner set is necessary.

N

Nugget

September 21, 2023

Thanks for your feedback, Barbara! Liner Sets are not required for play, but we know that accidents can happen with little ones so they're offered as an add-on to help maximize foam protection from unwanted spills and mishaps.
Reviews Loaded
Reviews Added
Frequently Asked Questions
Are Nugget Liner Sets 100% waterproof?

Mostly waterproof, yes. Pretty stinking close to waterproof, yes. But 100%? Not quite.

We take certifications and claims like "100% waterproof" very seriously around here. While the Liner Set's fabric (a 100% polyurethane layer for waterproofing and a 100% polyester grey top layer for durability) is 100% waterproof, the zippers and seams that bring together the Liner Sets are not fully waterproof. To keep spills from seeping through the zippers, we designed zipper flaps that minimize the risk of water soaking through, and in our own product testing, we found that when used correctly, foam protected by a Nugget Liner Set remained dry, even hours after a major spill.
How do I put on a Liner Set?

Watch this video for help! Quick pro tip: To maximize foam protection, it's best to orient the zippers of the base and cushion outwards and flap down.
Do Nuggets come with a Liner Set?

No. Liner Sets must be purchased separately and will ship in a separate package.
If I order a Nugget and a Liner Set, does the Nugget come with the liners pre-assembled and on the Nugget?

No, the Nugget and Liner Set will ship separately. When you receive both the Nugget and the Liner Set, you can remove the Cover Set and put the liners on before using the Nugget.
What comes with a Nugget Liner Set?

Great question! Liner Sets come with six pieces in total: two for the thicker bases, two for the thinner cushions, and one for each of the two triangle pillows. Each liner piece is labeled clearly for easy assembly.
Can Liner Sets be used in lieu of Cover Sets?

No. Liner Sets are designed and tested to protect Nugget foam — they aren't meant to be displayed or used during play. Because of the material used for waterproofing, Liner Sets are much smoother than Cover Sets and should not be used as a substitute for Cover Sets during play.