A Nugget for the holidays
Everything you need to know about purchasing a Nugget this holiday season — from ordering, shipping, gifting, and all the details in between. Keep an eye on this page for updates throughout the season!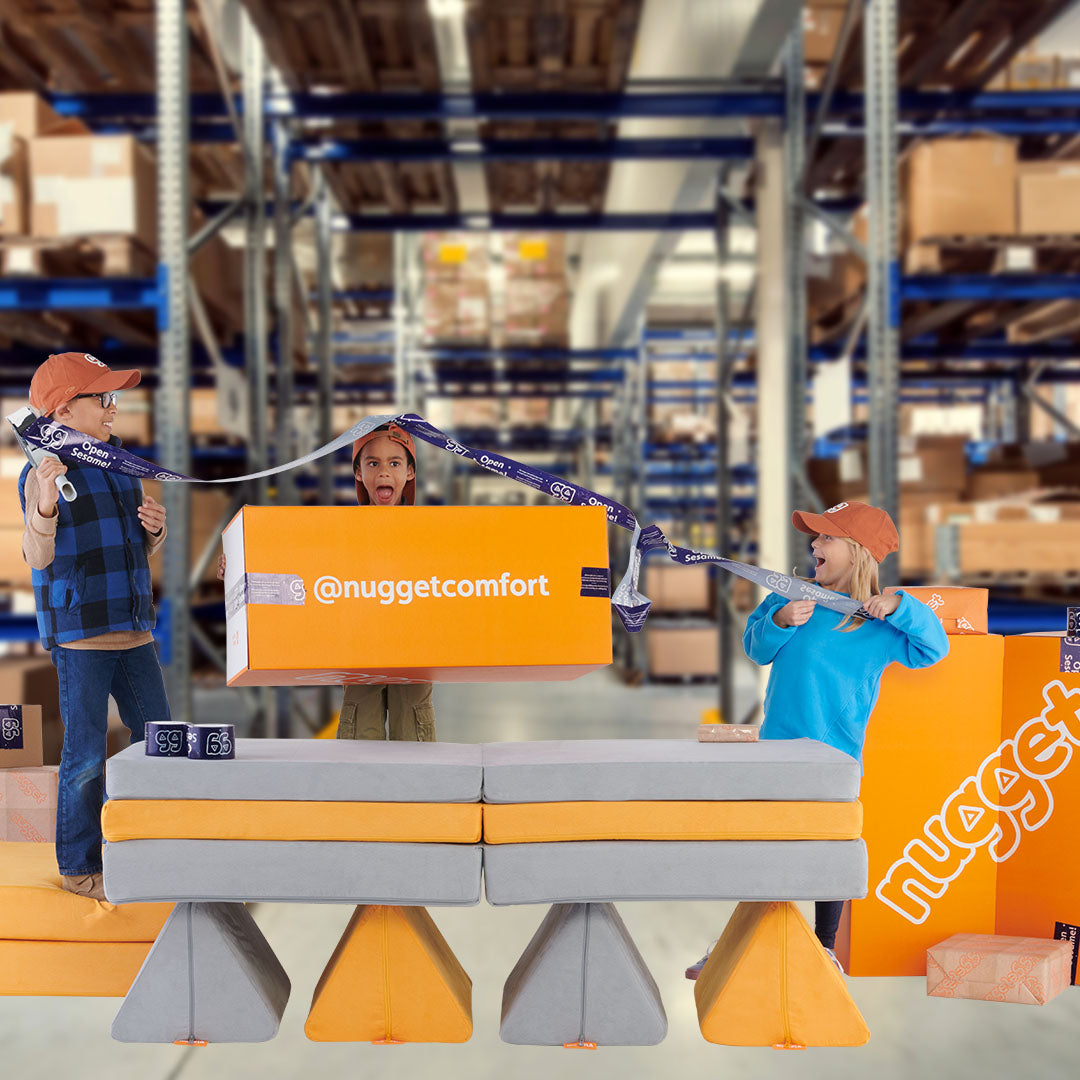 When to order
Orders currently ship from our factory within 1-3 business days — as a friendly reminder, we don't offer delayed or expedited shipping, so your order will ship soon after purchasing! If you're able to store the Nugget (either in its box or opened), we always recommend ordering as early as possible to avoid any last-minute holiday stress. Once we have an official holiday ordering cut-off, we'll update this page, share it in our email newsletter, and post it on social.
Order now, open later
You can leave the Nugget in the box for up to 8 weeks, but to ensure an Instagram-worthy reveal and to allow the Nugget time to fluff back to shape, we recommend unboxing a few days before gifting. Please note that unopened U.S. orders are only eligible for return within 15 days of delivery.
Looking for a creative way to gift the Nugget? We've got you covered.
No need to delay
No fighting virtual crowds on Black Friday, or waking up for the best deal at 3am on Cyber Monday — we don't offer any holiday discounts or sales. Our pricing is consistent year-round, so you can rest assured you're getting the same price as everyone else, regardless of when you order. Curious to know why we do this?
Nuggets to know
Estimated delivery
For the most accurate delivery date prediction, use the tool on our Shop page above the "Add to Cart" button — enter your zip code to see a specific estimated delivery date for your order.
Color variety
We offer 15+ custom colors – only available at Nugget – across three versatile, cozy, machine washable fabrics. They're all currently in stock and ready to ship within 1-3 days of purchase!
Top-notch quality
We offer a two-year warranty – the best play couch warranty on the market. If you do have an issue, our unparalleled Customer Experience team will be quick to help you solve it.
We've done enough talking. What are real customers saying?
The Best! "The Nugget is the best item I purchased for my kids this holiday season. I have a 6/4/2 year old and they have played with the Nugget every day since they opened it. This is a great way for them to use their imaginative play skills, cooperation, communication skills and gets them moving. Highly recommend to all!"
Should have purchased one sooner!" After 2 years of debating whether or not to get one, we finally asked for one as a gift this past holiday. My favorite thing about the Nugget is how easy it is to pick up and move out of the way for vacuuming and washing floors. We can go from lounging and watching a movie to having a ballroom dance floor in a matter of seconds. The material is great too! We already want another Nugget for Christmas 2023. "
Tons of fun!"We got our 3 kids a Nugget couch for Christmas and they have played with it or used it in some way every day since they got it. From camping on it in living room to using it to build forts, the possibilities are endless. One of the kids spilled something on it and I was able to easily unzip and remove the cover, wash it, and put it back on. Money well spent!"
Still deciding?
In a world with endless options for your kid, Nugget has been a winning choice for nearly a decade. Learn more about why you should choose Nugget this holiday season here.
Your playtime search is over! Join the Nuggetverse today.