A fun-sized Nugget for taking play to new heights (ones slightly closer to the floor, specifically). 
How to use it
We packed tons of big ways to play into this Mini Nugget™. It can be a launchpad for all kinds of new fun: a castle for a favorite doll, a rad new ramp for toy cars, or a chill lounger for your esteemed stuffy, Mr. Bun Bun.

It's also an easy way for small humans to show the grown-ups what build they want to create next. Who knows? It might spark your imagination too.
Who Loves Mini Nugget More: Kids or Toys?
Who Loves Mini Nugget More: Kids or Toys?
I finally get to take my very own #BigOrangeBox photo! #NuggetsonNuggets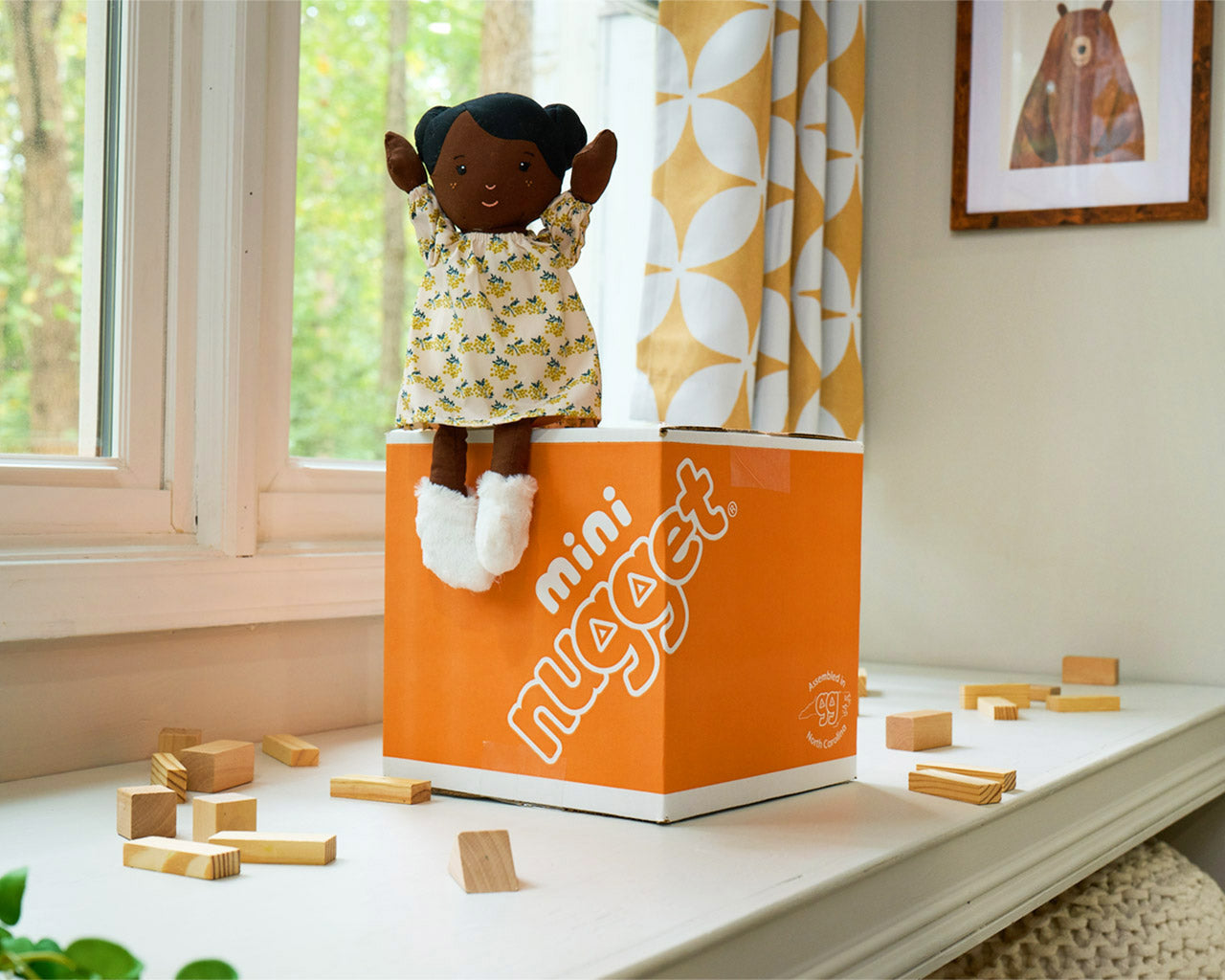 I finally get to take my very own #BigOrangeBox photo! #NuggetsonNuggets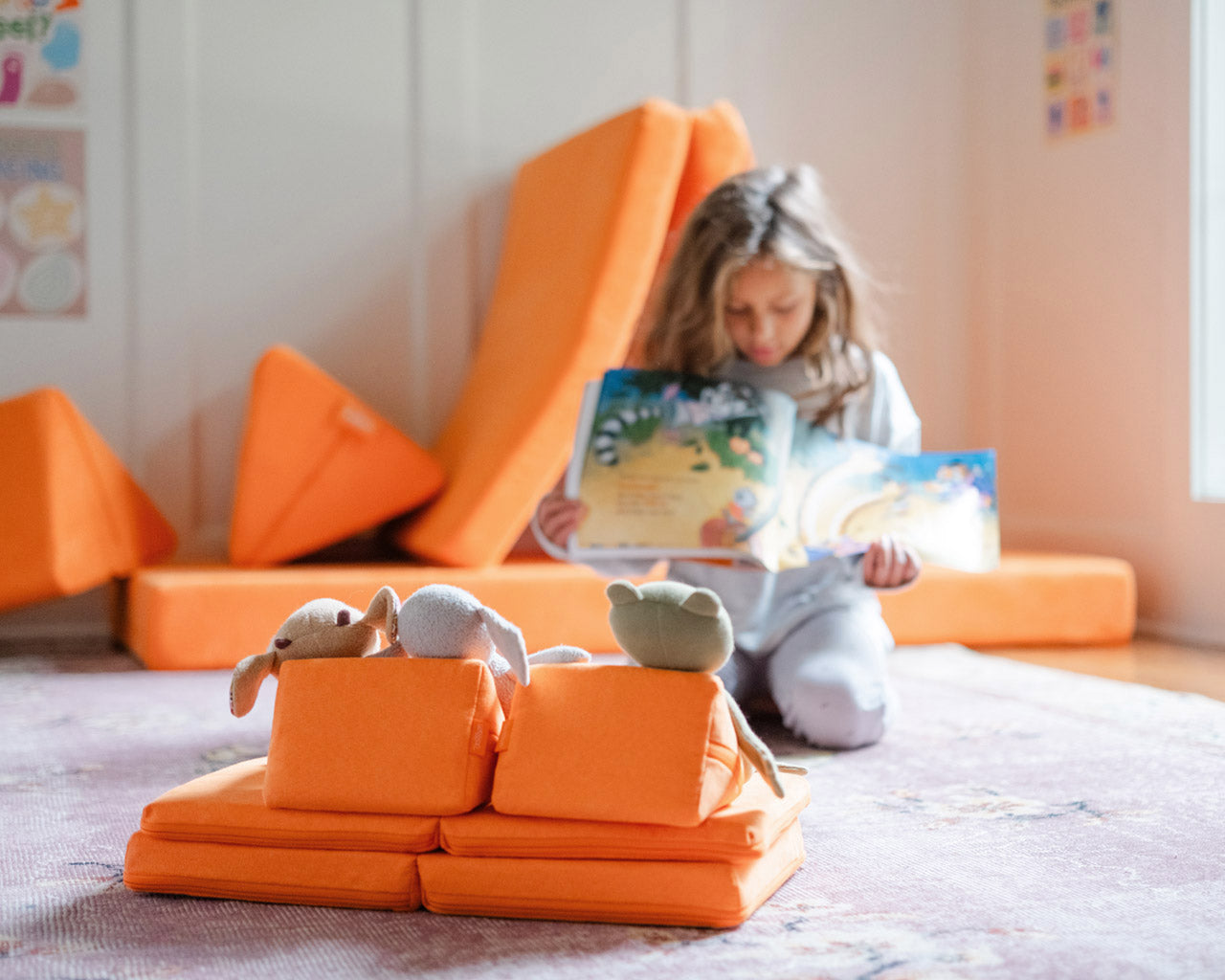 Play school is so much more fun.  Bunny, Hop-Hop, and Ms. Bear love how comfy it is for storytime.
Best purchase since the Cretaceous Period. The kids love using the Mini Nugget to play "Floor is Lava."
The Mini Nugget is purrrfect for my wildest friends!
Frequently Asked Questions
When will the Mini Nugget be available?

The Mini Nugget will be available in limited quantities on Friday, November 24th at 12pm ET. We expect inventory to go quickly, so set an alarm and add it to your calendar! Once it sells out, it won't be restocked again this year.
How do I care for a Mini Nugget?

The same way you would care for a regular Nugget! Covers can be spot cleaned or machine washed on cold, then air dried. (We recommend a regular-sized washing machine. 😉)
Can I sit on the Mini Nugget?

Are you a stuffed animal, doll, toy car, action figure, or some other plaything that can fit in a backpack? If not, we recommend upgrading to a full-sized Nugget for optimal sitting experiences.
Will it expand into a full-sized Nugget if I put it in water?

While we all fondly remember those magical grow toys from the '90s, the Mini Nugget isn't one of them! For any Nuggeteers brainstorming other mini experiments: May we suggest factoring in that the Mini Nugget isn't waterproof?
Does the Mini Nugget come in other colors?

The Mini Nugget comes in our playful, celebratory orange color, Nuggeteer! It won't be available in other colors this year. 
Why is there a cart limit?

Due to the limited nature of this product, and in an effort to spread the mini cuteness as far and wide as possible, we're implementing a limit of three Mini Nuggets per cart.
How much is shipping?

Shipping is free to the entire contiguous United States! 

For non-contiguous U.S. states (Alaska and Hawaii), there's an additional shipping cost of $19 per Mini Nugget. 

For orders headed to Canada, the shipping cost is $29 per Mini Nugget.
Does it come with a warranty?

No. The Mini Nugget is a novelty item and limited edition product, so it isn't covered under the manufacturing warranty.
What's the return policy? 

Unopened and unused orders placed in the U.S. are eligible for return within 15 days of delivery. Mini Nuggets must remain in the original clear plastic interior liner with the adhesive seal still intact, and must be returned in the original orange packaging. Canadian orders are not eligible for return. 

The Mini Nugget is not eligible for the 30-day trial.